It is truly the Great Debate.
Where are you sending your kids to school: Public, Christian, Private, Homeschool…the options are hotly debated as to which is the "best". Where will your child be best sheltered but yet safely exposed to all things worldly? Where will they receive the best education? The best biblical knowledge? The most attention? Which is the least expensive or is the most expensive still worth it?
Open houses at schools are scrutinized by parents who adore their children (rightly so) and hope they will be taught a good mix of ABCs and God's truth. I am on board with all of this but where I jump off the band-wagon is when we start to EXPECT a school to do what God told us to do.
He gave us some serious homework in Deuteronomy 6:5, "These words, which I am commanding you today, shall be on your heart. You shall teach them diligently to your sons and shall talk of them when you sit in your house and when you walk by the way and when you lie down and when you rise up. You shall bind them as a sign on your hand and they shall be as frontals on your forehead. You shall write them on the doorpost of your house and on your gates."
First of all, I have no idea what frontals are either.
But what I do get with this major assignment from the Big Guy is that WE (not sweet lil' Mrs. Smith) are the ones responsible for teaching our kids real truth.
I tried the whole binding verses to your hands and forehead suggestion but was having a hard time getting the kids mittens and hats over them when we went outside so I figured I could take that more figuratively.
But in all seriousness, we can teach our kids about how amazing God is and they can take it with them in their hearts to ANY school. I also love how creative we can make the time we spend together sharing from God's word. Sometimes when we tell the kids a classic from the Bible, we put a little spin on it to hit them where they are at.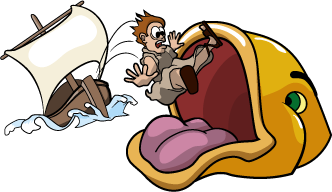 For example, the other night Jonah from the Bible was kicked out of a space-ship instead of a boat and a great outer-space monster swallowed him whole before spitting him up on the shores of a Jedi-knight training camp-island. Another time when I was having a hard time explaining how even though we don't see God, He is still very real, I grabbed a blow-dryer and a ping-pong ball to demonstrate an "unseen force". And one of my favorite memories (see vid below) is when Bob acted out the story of Queen Esther, complete with lady voices and silly costumes!
So if Mrs. Smith at the local school is teaching your children some great lessons from the Bible, that is really wonderful...but it's bonus. We parents are the ones that have both the privilege and commission to open the Good Book and bring it to life for our children.
What are some of the ways you make family devotions fun? What are some things that are important for you to pass down to your children?